Science Hack Day Berlin 2014 – The Hacks
Documentation cobbled together from various sources… corrections and additional material are VERY WELCOME! 🙂
1. InstaRainbow (Colorful stuff with a Spectrum) **BRIGHTEST HACK (PHOTONICS HACK)**
2. Citenet **BEST CITIIZEN SCIENCE HACK**
3. Popcorn decay **BEST EDUCATIONAL HACK**
4. Visualising astronomic data
5. Dynamic Neurobot **BEST SCIENCE HACK**
6. Pimp your dong/Feel the planet **WEIRDEST/MOST CREATIVE HACK**
7. Plant-O-Tron **BEST HARDWARE HACK** **AUDIENCE AWARD**
8. IPO-CC-hack-triggering tool **BEST DESIGN HACK**
9. Colour analyzer
10. Collaborative geo-annotation app
11. Construction of a Foucault Tester for selfmade newtonian telescope
12. Sonify plants
13. Mechaninal binary counter
14. Mesh Light
15. Social network- IOT
16. Spectralsoniclightimattergenerator **BEST DATA HACK**
---
1. InstaRainbow (Colorful stuff with a Spectrum)
**BRIGHTEST HACK (PHOTONICS HACK)**
Team: Andre Lampe (pitched), Martin Ballaschk
XXXXX: No documentation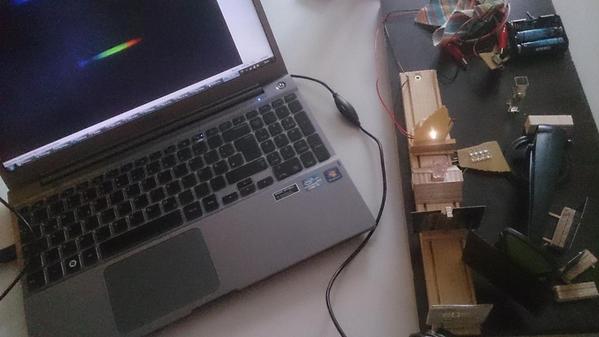 **Wolf Jeschonneck from FabLab Berlin awarded the Team with the Brightest Hack Award and some sweet CMOS Camera modules.
2. Citenet
**BEST CITIZEN SCIENCE HACK**
Team: Joren Retel (pitched), Ellen König, Daniel Hoffmann, Udo Kramer, Leandro Frontoura
We build a network of papers citing other paper using the data from the European pubmed API.
The starting point is one paper of choice. From this starting point a network is generated of papers that are referenced in this first paper, and the papers that are referenced in turn in these papers and so on…. In this way it is easy to grasp the historical context of the paper. To crawl only the most relevant papers the amount of citations in the local network is used to decides which nodes are crawled next.
Being able to quickly grasp somewhat remote research topics a clear overview of the literature is key. Publications are the way science works together. A major problem is that public API's do not provide the references meta data for each article. This meta data is regarded as part of the content. In order for this app to be able to really crawl all relevant research, this data should be publicly available. This is a direct example of the closed nature of the publishing industry directly hurting scientific progress. The references serve as edges between the papers.
Find the webapp here: http://citenet.herokuapp.com/ and a documentation from the team here (pdf).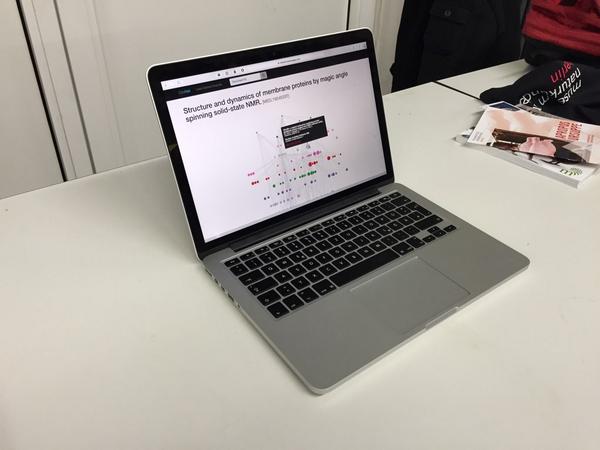 SHDB says: Citenet is a truly disruptive hack. It's the future of paper search and will save us all alot of time!
**As winner of the best Citizen Science award handed out by Lisa Pettibone from the Naturkunde Museum Berlin it will be published on the Website of the Naturkunde Museum.
3. Popcorn decay
**BEST EDUCATIONAL HACK**
Team: Jesús Martínez (pitched), Felicia Burtscher, Katrin Dietzsch, Marina Melero, Benjamin Bagusche, Marina Melero, Abe Pazos, Jorge, Chris
This hack showed that the process of making popcorns displays a great scientific similarity with radioactive decay. The team recorded the sound a popcorn maker while it was operating. Then they wrote a processing sketch that would analyze the sound to detect singular kernel pop. The result was beautifully plotted and analyzed. And indeed popcorn seems to decay similar to radioactive material with a poisson distribution.
Website of the project: http://popcorndecay.weebly.com/
SHDB says: very delicious in the visualization and presentation
**Christina Dicke awared the project with the Best Education Hack prize. The team won two Fritzing creator kits!
4. Visualising astronomic data
Team: Jochen Klar (pitched), Julius Klaus, Magdalena Noffke
The night sky that we from earth depends on the position of the earth in space. From other locations in the universe the star constellations in the sky look completely different. The team used astronomic data in order to create a web application, where the user can select different locations in space and see the constellations from there.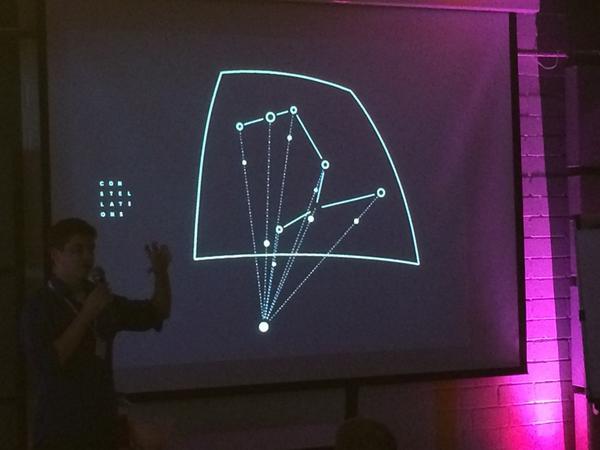 5. Dynamic Neurobot
**BEST SCIENCE HACK**
Team: Tiffany Gatchel (pitched), Tino Junge, Marc Hahn, Christoph Badura?, Jakob Frick, Markus Götz?, Rudolf Zeidler, Martin Sona
The teal hacked a DIY EEG to control a robot. A machine learning library learns from the measured signals in order to move the robot. MORE!!!
**Filipe Natalio awarded the Dynamic Neurobot with the Best Science Hack award
6. Pimp your dong/Feel the planet
**WEIRDEST/MOST CREATIVE HACK**
Team: Rin Räuber (pitched), Ikaros Kappler (pitched), Gabriel Zöller
The Pimp your dong hack fed realtime seismic data gathered from an web API tp make a dildo vibrate. But they didn't stop with dildos. They also fed the data into a globe that was pimped with lamps and a vibration motor, so it would indicate a earthquake on that.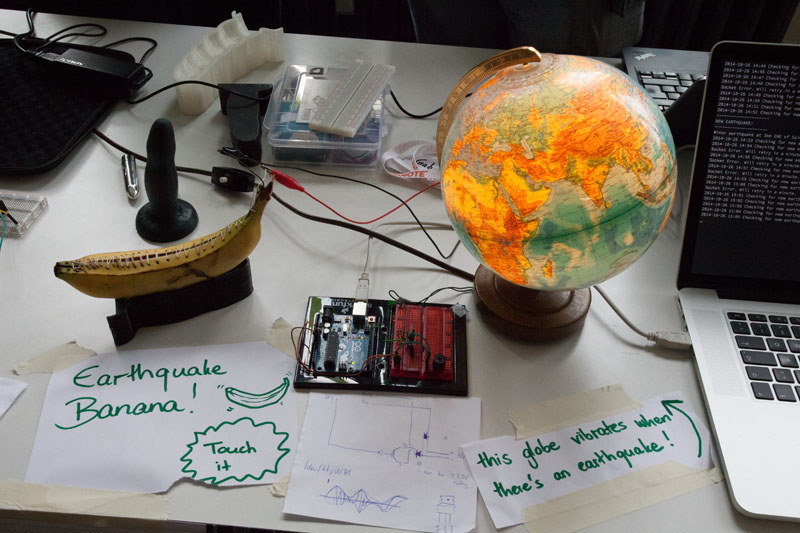 **Dieter Müller from Technologiestiftung Berlin spontaneously awarded the hack with the weirdest/most Creative Hack award.
7. Plant-O-Tron
**BEST HARDWARE HACK** **AUDIENCE AWARD**
Team: David Rieck, Robert Heinrichs
The team build a movable platform robot that carries a plant and is able to track the sun to always keep the plant in the sunlight. the behaviour can also be inverted in order to keep your beer nice and cool.
**Dieter Müller awarded Plant-O-Tron with the Best Hardware Hack award. Also the majority of audience voted for this Hack.
8. IPO-CC-hack-triggering tool
**BEST DESIGN HACK**
Team: Lars Zimmermann (pitched), Sarah…..
This Hack is an experimental prototype of a software project that maps and connect resources. I-P-O documentation helps to monitor, communicate and connect flows of energy, materials, components and (by)products.
Github of the project: https://github.com/hackers4peace/ipotables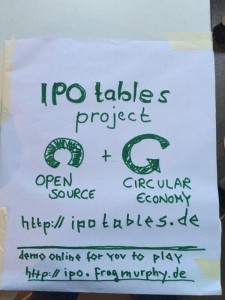 **Johannes Marx from the HPI School of Design Thinking awarded the team with the Best Design Hack award.
9. Colour analyzer
Team: Miti (pitched), Sabine
Measuring pH using a hacked smartphone
10. Collaborative geo-annotation app
Team: Stephan ([email protected])
Right now there are quite a few applications that can be used for annotating geofeatures on a slippy- or vector maps. The most well known is probably ArcGIS. However they lack the ability to be connected together, so scientists can collaboratively edit map-annotations in areas without internet access through a peer-to-peer wireless data connection.
My project aims to implement a very lightweight mobile mapping application based on PhoneGap which can do just that. It is meant to be adaptable for any kind of annotation scenario by using templates for GeoJSON formatted data. These JSON objects should then be stored in the browser-cache using a PouchDB database. Real time collaboration will be enabled by the native live-synchronization method that PouchDB uses.
In addition I was gonna try to turn an Android-device into a long-range data radio frontend by using a RF22+Arduino device which can be connected to the USB2Go port in order to enable long-range peer-to-peer connections (up to 2Km) in order to enable realtime map-synch.
I can pop up some RF22B + Arduino. They can connect to an android device through USB2Go and are recognized as COM-Ports. Look up RadioHead library for the Hardware-side.
But the better part of it is pure software: Mostly front-end JavaScript.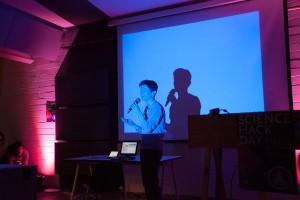 11. Construction of a Foucault Tester for selfmade newtonian telescope
Team: Gerry (pitched), Morice
For a DIY telescope it is crucial to have a Foucault Tester for determining precision of parabola primitive mechanical device…..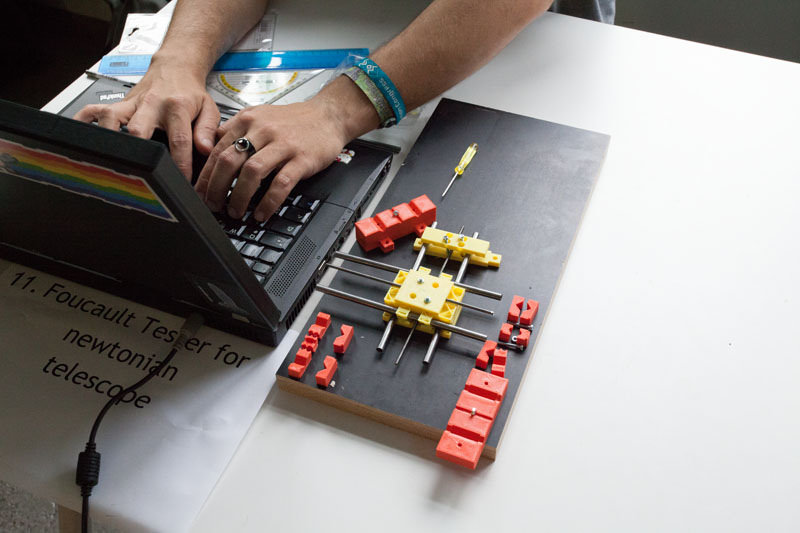 12. Sonify plants
Team: Christina (pitched), Max
Christina (http://plantsandempire.tumblr.com/)
Translates growth data of libanese zeders to music.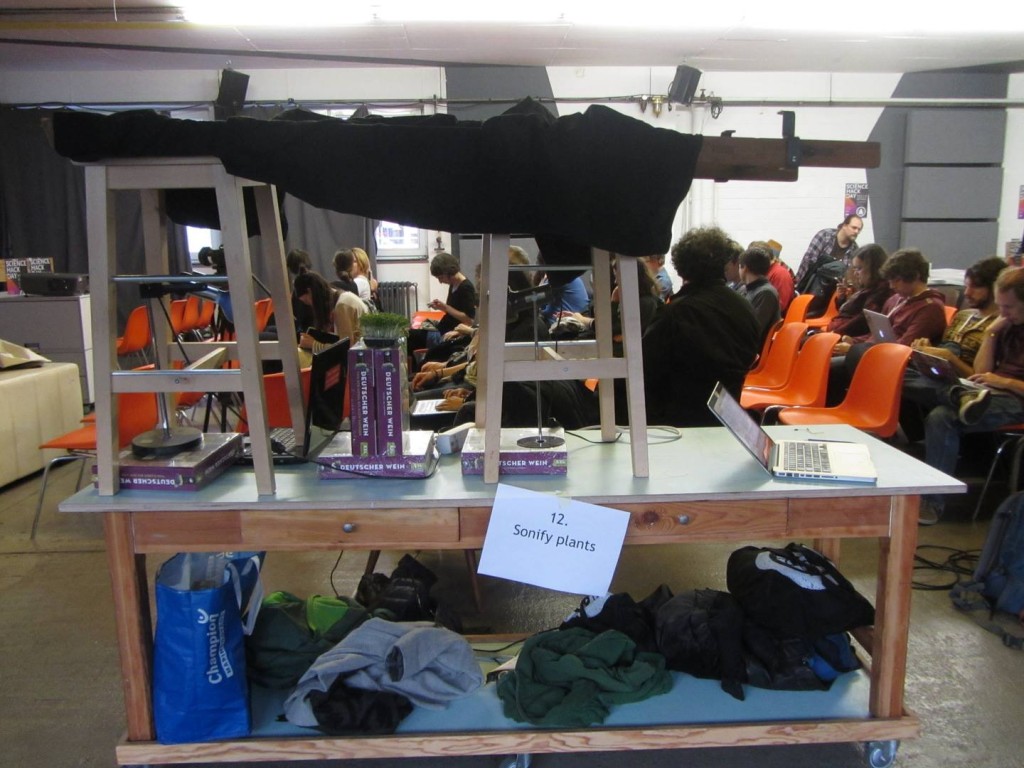 13. Mechaninal binary counter
Team: Duana Stanley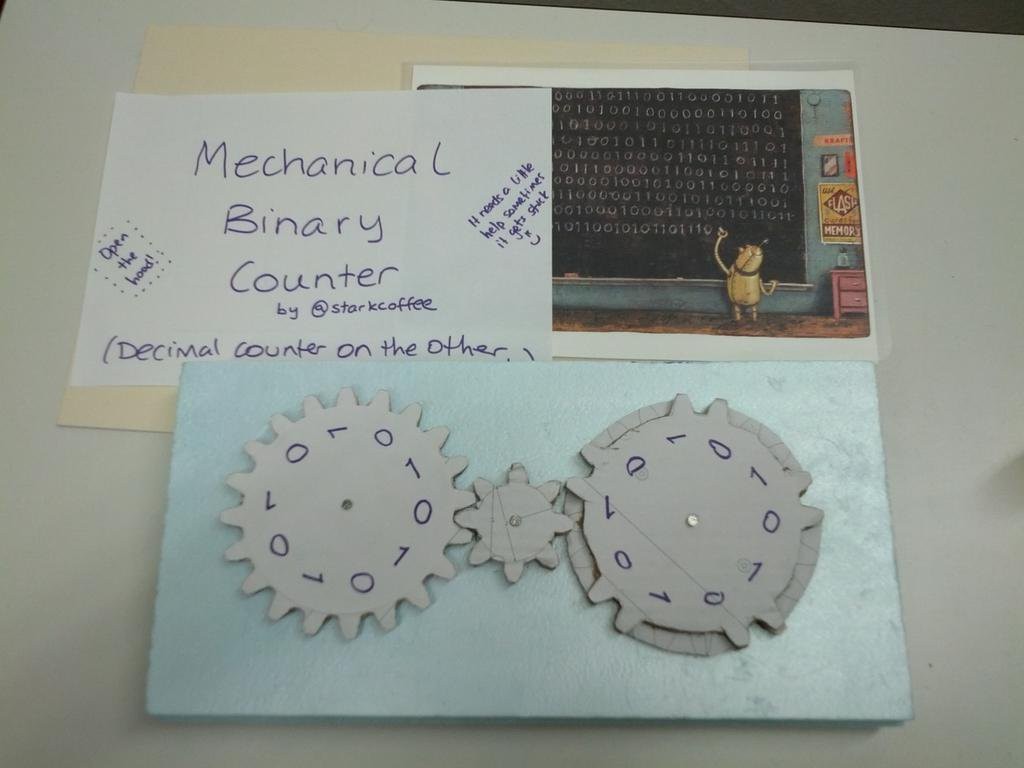 14. Mesh Light
Team: Veit (pitched), Enya,Sebastian, Toli
The Mesh Light is a hack that helps you to find each other when lose one another in a large crowded area- like a music festival. Each Person wears an arduino controlled LED bracelet. A button lets the LEDs blink and send a radio signal, which will trigger all other bracelets, which receive the signal to blink as well.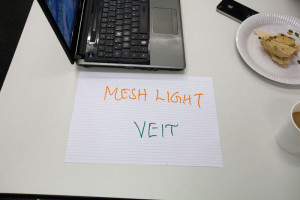 15. Social network- IOT
Team: Kevin, Daniel
create a newtork not of people but of things,activities. What is interconnected is what people like to do.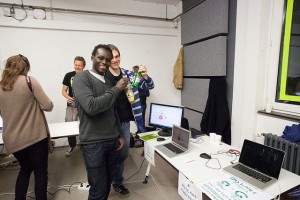 16. Spectralsoniclightimattergenerator
**BEST DATA HACK**
Team: Doran, Alfredo (pitched), Benjamin, Kai, Arawash
Develop a sonic and light system to sense (and generate) electromagnetic and electric fields by means of feedback dynamics in the sound domain and directly interferred by users with sensor on fluorescent tubes.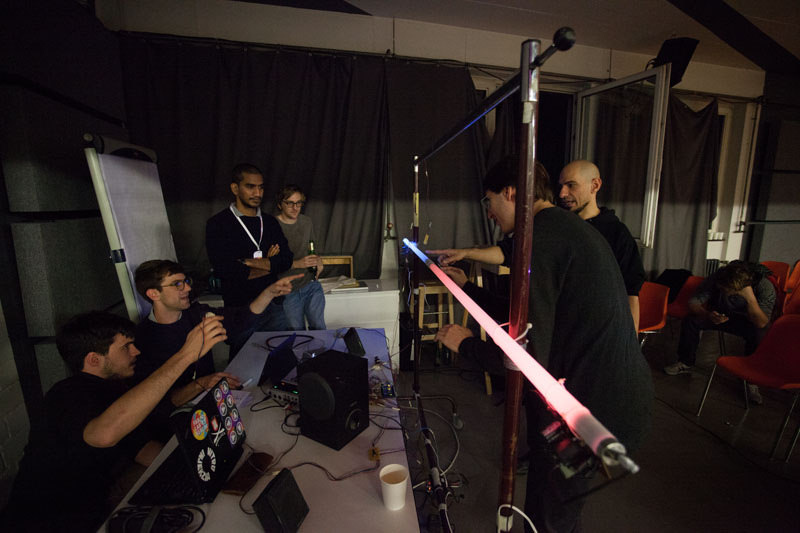 **Daniel Mietchen from Wikimedia DE awarded the Spektral Tubes team with the best data hack award