Science Hack Day Berlin 2017 – The Hacks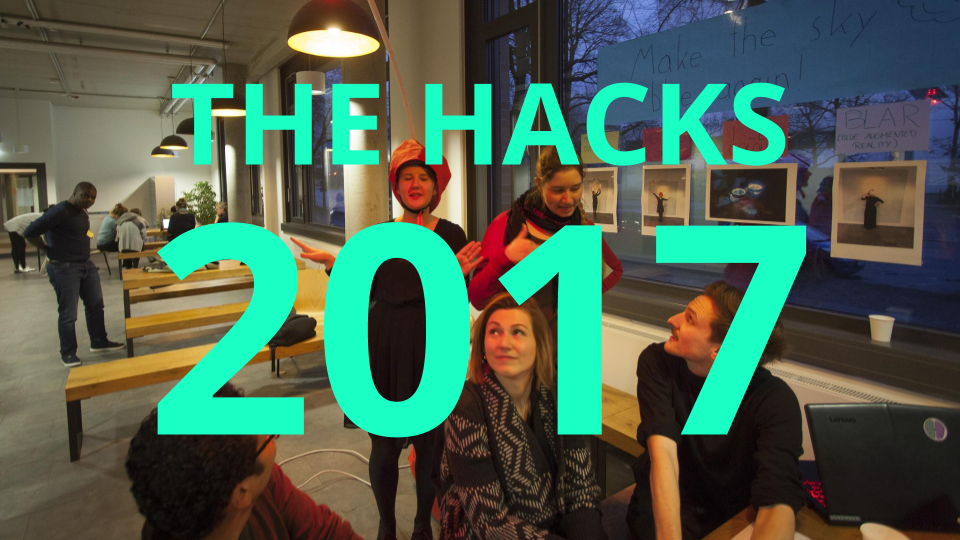 Yes it really happened. We were there… this giant technicolour mushroom just exploded out of the ground in front of the MAR Gebäude and engulfed us all in a cloud of intergalactic science spores. It was beautiful. We're not quite sure of the details of what happened next, but we found this documentation on discourse and have summarised it here. THANK YOU to everyone who was there, whoever you are!
---
1. We are not alone (social network analysis)
Team: Ellen König, Tom Beutin, Syennie Valeria
Documentation: http://discourse.opentechschool.org/t/documentation-we-are-not-alone-social-network-analysis-and-visualization/2289
To learn something about our social connections at the Science Hack Day, the team analyzed and visualized the twitter network of SHD participants. By analysing who follows whom and quantifying the replies and retweets they drew maps of the network. In future iterations they could integrate more data sets of other science hack events to eventually draw an interaction map of the whole science hack day community. They also found out that we definitely need more retweets. Go here to do your part 😁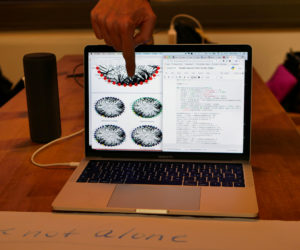 ---
2. Sound controlled stroboscope

BEST SCIENCE HACK
Team: Johanna, Toli, Jemma, Robert, Chris, Schaffa, Discoboy
Documentation: http://discourse.opentechschool.org/t/sound-controlled-stroboscope/2291
The team of lab:present did not only do an amazing demo of their physics experiments at #SHDB17, they also worked on the refinement of one their projects. Their strobokinetic sculpture consisting of a fast spinning 3D printed object illuminated by a LED stroboscope was upgraded to be controlled dynamically by music. The result is a back and forth pseudorotation of the object.
---
3. Make the sky blue again

AUDIENCE FAVOURITE
Team: Nicolai, Meredith, Ahmed, Katharina, Rita, Maren, Aline, Gabriel, Zsofi
Documentation: http://discourse.opentechschool.org/t/make-the-sky-blue-again-documentation/2290/3
Why do one hack when you could do four? To fight the depressing lack of blue sky in winter, this team hacked the sky using four approaches: Bringing your own sun with you with a suspended heat lamp over your head, taking the sky with you using a suspended white fabric with LED lights, using the powers of AR to digitally transform the grey sky into a blue one, and glasses with suspended blue LEDs to give a bright blue it in the top of your field of vision.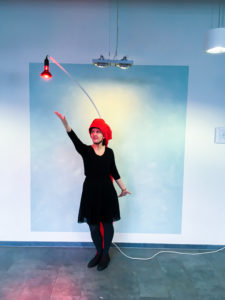 ---
4. Smart helmet 

BEST HARDWARE BACK & AUDIENCE FAVOURITE
Team: Guergana Tzatchkova, Magdalena Wypukol, Nikolai Genov, Richard Kunert, Usha Reichel, Patrick Mallon
Documentation: http://discourse.opentechschool.org/t/documentation-smart-helmet/2294/
This project is designed to support firemen working in enclosed and low visibility spaces: ultrasonic sensors detect objects and vibrators transmit that info to the wearer. Additional sensors hooked up to an Arduino board monitor the environment. And a handy clip on the earlobe transmits pulse data to a bluetooth enabled device to monitor vitals.
---
5. Rock vs Cell 

BEST ART/SCIENCE HACK
Team: Gene Kogan, Mitesh Kotak, Rick Scavetta, Eeva-Liisa Puhakka, Jonas Braun, Lorenz, Benni, Lindsay Petley-Ragan
Documentation: http://discourse.opentechschool.org/t/documentation-rock-vs-cell/2322
What do electron microscopy images of cells and minerals have in common? To explore that question the team used machine learning to analyse the characteristics of each data set and with some magic coding they used pix2pix style transfer to make any drawing look like rock or cell electron microscopy images. And surprisingly well so. Better look twice on the next publication to be sure it's not this team's algorithm used to create the right images.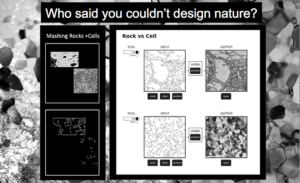 ---
6. Humbot – Chatbot for lab-journalling 

SPECIAL BEING REALLY COOL PRIZE
Team: Alex Moellers, Arne Jenssen, Johanna Vielhaben, Marja Kornhuber
Documentation: http://discourse.opentechschool.org/t/documentation-humbot-chatbot-for-labjournaling/2288
Keeping a good lab book is hard as every scientist will tell you even before you ask. It is absolutely necessary to document your work well but it's also hard to do while relying only on paper based books. To take lab documentation into the 21st century this team created a chatbot that dynamically helps with experiment planning, performing and documenting on the example of a PCR. Additionally, this projects has great potential as a new tool to teach beginners the basics of lab work.
---
7. DIY Fluorometer
Team: Michal Koudelka, Thomas Mboa, Martin, Patrick, Artiom Magomedov, Moritz Ebeling-Rump, Lisa, Robert, Theron
Documentation: http://discourse.opentechschool.org/t/documentation-dna-measurement/2283
Measuring DNA concentrations is one of the staples of lab work. Machines to do that cost upwards of several hundred euros and are out of reach of DIY molecular biologists. This team stepped in and built a Fluorometer from scratch. In combination with a fluorescent dye staining the DNA they built a measurement chamber with excitation light and emission sensor, calibrated the system, built a box and a GUI. If you want to build your own, check their github documentation with all the details!
---
8. 100 Human Experiences
Team: Rachel, Nina, Francis, Kaya, Luíza
Documentation: http://discourse.opentechschool.org/t/documentation-100-human-experiences/2284
We all share experiences and we all have experiences that are very special only to us. To map our shared experiences, the team created a questionnaire of individual experiences and visualised it using network analysis. The experiences were qualified by the participants as positive or negative and are in turn visualised accordingly. If you want to add your data to the data set follow the link in their documentation.
---
9. The algorithm will see you now

BEST DESIGN HACK
Team: Angelica Braccia, Julianne Hofmann, Johannes Schweig, Pablo-David Rojas
Documentation: http://discourse.opentechschool.org/t/the-algorithm-will-see-you-now-documentation/2292
We ask algorithms what we should eat and buy, where to go on holidays, or what song to play next. The team asked their algorithm what disease they might have based on their symptoms. Going from a questionnaire the algorithm gives not only a diagnosis but also extends it to suggestions to buy different kinds of remedies. In combination with big databases like WebMD this algorithm could help in the future to perform first diagnosis before seeing a human robot doctor.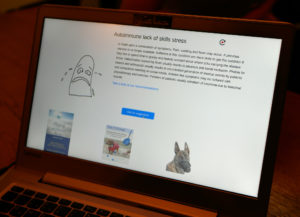 ---
10. Misuse Science / drops of sound / …
Team: Denizay, Serena, Hiroshi, Malte, Fee, Rafi, Jemma
Documentation: http://discourse.opentechschool.org/t/documentation-tear-of-scienece/2302
They began with "misusing science" and ended with an acoustic installation using water drops and piezo sensors. The (not very reliable) piezo sensors would detect falling water drops expelled from old pharmacy equipment and trigger sounds. The overlay of two of these drops creates a rhythm of amplified and exaggerated sounds of the individual drops.
---
11. Sky
car

Snake

MOST UNEXPECTED HACK

Team: Benjamin Skirlo, Saulé Magomedoviene, Svein Berge, Toni Hyyppä
Documentation: http://discourse.opentechschool.org/t/documentation-sky-snake/2299/

Propelling a plane through the sky is easy. That is, if you use traditional modes of propulsion, like propellers or jet engines. It is much harder if you want to use momentum and weight distribution to achieve the same effect. While this should work on paper nobody managed to prove that in real life. The team put an electronically controlled winge on a model airplane that moves a weight up and down while performing parabolic flight maneuvers. While they could not (yet) show that this new mode of propulsion works they made great steps towards a working airplane to test this hypothesis.